Brooklyn Nine-Nine returned for season 7 on NBC on Feb. 6. The season premiere was made up of two hilarious episodes, "Manhunt" and "Captain Kim." However, Rosa, played by Stephanie Beatriz, only appeared in the cold open of "Captain Kim." So why was Rosa missing from part of the season premiere of Brooklyn Nine-Nine?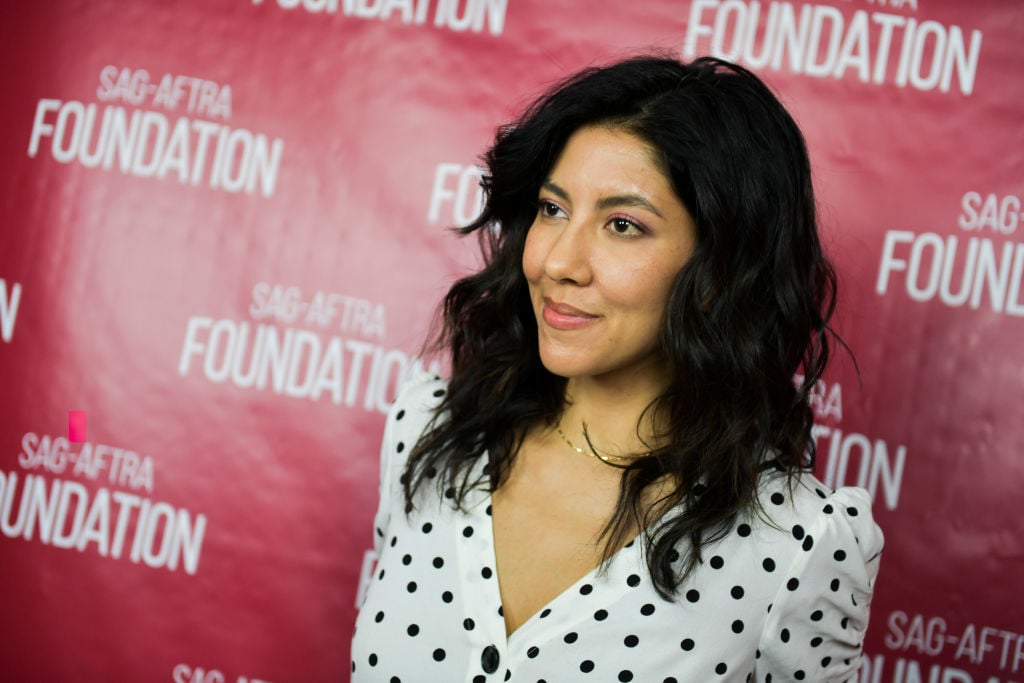 What happens in the 'Brooklyn Nine-Nine' episode
"Captain Kim" is the second episode from the Brooklyn Nine-Nine season 7 premiere. In the episode, the precinct gets a new captain. While this is a plot fans have seen before, the show takes it in a new direction.
Jake Peralta and a newly-demoted Holt are instantly weary of the new captain's intentions. For starters, Captain Kim, played by Nicole Bilderback, seems too good to be true right from the start. Despite their worry, she insists that she has never met Madeline Wuntch. She also assures the precinct she plans to leave once Officer Holt completes his year as a patrol officer.
She offers Jake a position working with the FBI, loves looking at pictures of Terry's kids, and bonds with Amy. Yet Jake still can't shake the paranoia that Captain Kim is up to something. It turns out that in addition to daddy issues, Jake also has stepdaddy issues.
Jake feels protective of Holt, his father figure, and the precinct. At a welcoming party thrown by Captain Kim, Jake and Holt search through her house. They end up ruining the party, and learn that Captain Kim had only good intentions. Despite her original intentions of helping the precinct, Captain Kim asks for an immediate transfer.
Why Rosa did not appear in most of the 'Brooklyn Nine-Nine' episode
In the cold open of the Brooklyn Nine-Nine episode, Rosa and Jake discuss the new captain. Because of their history with bad captains and because Rosa does not feel like meeting new people, she asks Jake to try and get rid of the captain by the end of the weekend.
"Hey listen, I'm taking this weekend off. Do you think you can have the new captain gone by Monday?" she asks Jake. "I'm kind of over meeting new people."
Jake succeeds in driving off Captain Kim and fulfilling Rosa's request. While it worked with the story, there is a reason Rosa did not appear in the rest of the episode.
"We were accommodating her [shooting schedule on In the Heights]," Brooklyn Nine-Nine co-creator Dan Goor revealed. "We were so excited that she was able to do a movie with Amy's brother!"
While Rosa did not appear in much of the Brooklyn Nine-Nine episode, Beatriz's schedule with In the Heights will not affect any other episodes.
"At least we got her in the cold open," Goor said. "… it was the only episode that was affected."
Who will the next captain be?
After Captain Kim left the precinct, the characters are once again left without a new captain. Instead of having someone temporary take Holt's place, Goor said Terry will remain in charge.
"We decided not to do a revolving door of new captains," Goor said. "Though that was an idea we talked about, in the end we decided it would be [more] fun to explore the dynamic of Terry being in charge."
Source: Read Full Article