Below Deck fans tuned in on Monday for the franchise's newest installment, Below Deck Sailing Yacht. The show was met with mixed reviews on Twitter.
The majority of those who watched seemed invested in riding out the season with the crew of Parsifal III. Many are already dug in with teased storylines. "I'mma need a LOT more context on that breast feeding fight," one person tweeted after previews show deckhand Parker McCown assert he was still breastfed by his mother. Several people also noticed the uncanny resemblance between chief stew Jenna MacGillivray and actress Kim Raver from Grey's Anatomy.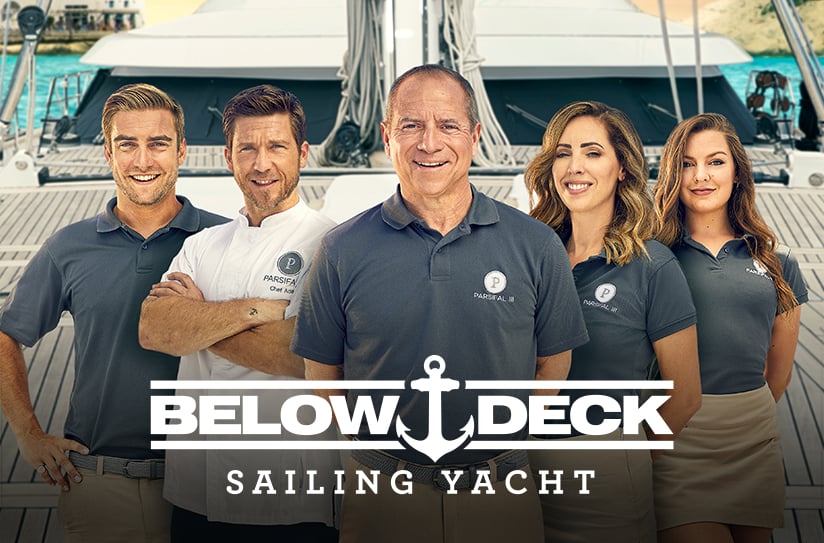 Other fans were craving that drama often associated with the show. "I mean it's not that juicy YET but still likable and will def watch next week!" another person tweeted. But most fans know the drama is on its way. Plus chef Adam Glick assured fans that the drama is coming, plus even more.
Glick teases more drama
Glick and MacGillivray discussed the new show on Reality Check on People TV. Host Daryn Carp wanted to know how Below Deck Sailing Yacht is different than the two shows fans already know. "Basically you have all of the elements of Below Deck and Below Deck Med," Glick explains. "Crammed into a smaller space, with more drama and adventure."
"I mean now we're doing beach parties all the time, we're doing things that Below Deck never really could do," Glick continues. "We're doing things like raising sails. That's a whole scene, that moment that blows you away. And you've never seen that on Below Deck series. Ever."
He assures fans they are going to get all the same drama they love about the show. "Plus, you get this adventurous, sort of moment, every time. In every episode."
MacGillivray says the show mirrors real yachting
Some previous crew members insist that the show is not representative of real yachting. However, MacGillivray shared that being a chief stew on the luxury sailing yacht on Below Deck Sailing is very realistic. "I honestly feel like its the exact as working day to day," she says. "There's a camera there but as he'll contest I'll just ignore that and get on with it. And for me, it was just more exciting."
MacGillivray shared she'd been on a few smaller sailboats in the past, plus a few bigger sailboats too. "But this one was the biggest so that was great," she said. MacGillivray revealed that she joined the show because she was looking for a new challenge and Below Deck Sailing Yacht looked like a "great opportunity to get into something new."
She adds that she watched Below Deck before joining the show. "All yacht crews watch it in the crew mess and kinda love it and love to hate it." She thinks the show is a good depiction of what real yachting is like too.
Glick prefers working on a sailing yacht
Glick has worked on both sailing and motor yachts but says he prefers sailing. "From a day to day basis, it's more exciting! I get to go outside and get the fresh air. You see this incredible thing happening," he said. "When that motor shuts down and it goes into pure silence. You can't have that moment on a yacht. And for that reason alone, I prefer sailing."
However, when it comes to his actual job, a motor yacht is far easier to handle. "Cooking? I'd rather be on a superyacht," he smiles. "Because it's bigger, I've got more space, I've got more storage, there's stabilizers. My knive's not liable to fly across the galley at any point in time."
Follow all the drama on Below Deck Sailing Yacht every Monday at 9 p.m. / 8 p.m central on Bravo.
Source: Read Full Article