Daredevil fans finally got the news they'd been hoping for. This week, Marvel boss Kevin Feige confirmed Charlie Cox's Matt Murdock would appear in the Marvel Cinematic Universe. And soon after, Daredevil star Vincent D'Onofrio chimed in with his own excitement.
Charlie Cox will play Daredevil in the MCU
Ever since Cox's Daredevil and The Defenders were canceled at Netflix, fans have hoped to see the British actor reprise his role as the superhero Matt Murdock in the MCU. Rumors swirled for years, including one that suggests he appears in Spider-Man: No Way Home. But Cox never gave confirmation he'd be back as Daredevil anytime soon.
Luckily, in a recent interview with Cinema Blend, Feige announced Marvel Studios would honor fans' demands and bring Cox back as the superhero. "If you were to see Daredevil in upcoming things, Charlie Cox, yes, would be the actor playing Daredevil," he confirmed. "Where we see that, how we see that, when we see that, remains to be seen."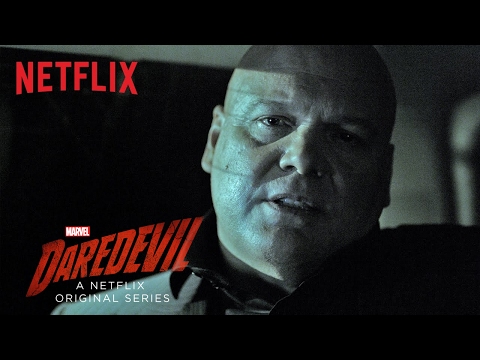 'Daredevil' star Vincent D'Onofrio reacts to the announcement
D'Onofrio famously portrayed the large looming villain Wilson Fisk, aka Kingpin in Daredevil. And when Cox's return as the superhero was announced, the actor took to Twitter to share his excitement.
"So happy for Charlie Cox he really deserves this," D'Onofrio tweeted. "He's a great actor and a wonderful guy. He put so much into playing DareDevil in such a unique way. Love this news."
D'Onofrio also gave a shout-out to his other Daredevil co-star Deborah Ann Woll, who played Karen Page on the series. Let's not forget about @DeborahAnnWoll," he wrote, "and the depth she brought to the character of Karen Page, an incredible Marvel character."
Fans want to see Vincent D'Onofrio in the MCU too
Cox isn't the only Daredevil star fans want to see in the MCU. D'Onofrio made a perfect Kingpin, and many hope he returns as the supervillain in one of Marvel's upcoming projects.
There is speculation that the actor will appear in the MCU sooner than later. In the new Disney+ series, Hawkeye, Maya Lopez (Alaqua Cox) hints that she has an "uncle" running criminal activity in the city. In the comics, her adoptive father is Wilson Fisk. 
So in a flashback scene, when a large hand touches a young Maya's face, it is assumed to be Fisk. And many fans are hoping that the hand belongs to D'Onofrio's Kingpin.
While D'Onofrio hasn't confirmed he'll be appearing in the MCU, he did tell ScreenRant that he's dying to step into the villain's shoes once again.
"I so badly want to play that character again. II love that character, I just have to wait for Marvel to ask me," D'Onofrio admitted. "It's very clear that I would, and the fans know that I would jump at the chance to play again. I just need to be asked."
Marvel Studios hasn't made any announcements about D'Onofrio, Woll, or other Netflix Marvel cast members' return. But hopefully, they'll either announce something or surprise fans soon.
Source: Read Full Article