When Marvel announced its slate of Disney+ shows, they did it in phases, which is the Marvel way. The first phase of shows they announced, The Falcon and the Winter Soldier, WandaVision, Loki, What If …? and Hawkeye are mostly filming or in post-production to premiere late this year or early next year. 
Then Marvel announced a second group of shows, about which there was much less information: Ms. Marvel, Moon Knight and She Hulk. Now word comes that production on at least one of those shows is ramping up too, leaving some fans wondering if Marvel is moving a little too fast into TV.
The first batch of Marvel shows is almost ready to go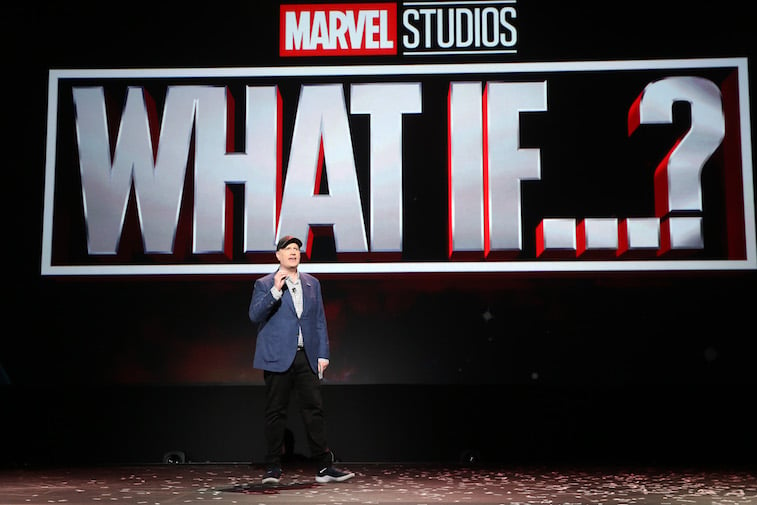 For the most part, production on the first run of shows has gone smoothly. The Falcon and the Winter Soldier is set to be the first to launch this fall as the show ponders the futures of its title characters and a life without the original Captain America. WandaVision, with its kooky premise of mixing various family TV tropes like Leave it to Beaver and The Brady Bunch, was actually moved up to late this year when it had been expected to debut in 2021. 
After that will come Loki, the series focused on Thor's dastardly half brother, and What If …:?
The latter is Marvel Studios' first animated series that imagines alternate realities for familiar characters. The first episode of that show will consider what happens when Peggy Carter takes the super-soldier serum instead of Steve Rogers. 
There were some reports that production on Hawkeye had been delayed, but per Radio Times, those reports were not accurate, with that series still expected to bow later in 2021. The show supposedly revolves around Hawkeye training a young charge, Kate Bishop.
'Moon Knight' is in pre-production
After Marvel made its initial run of announcements at San Diego Comic Con, it turned out they had more in store for the Disney fan convention D23. That event saw the announcement of She-Hulk, Moon Knight and Ms. Marvel. Very little was known about these shows, with no release dates given.
A site called Geeks WorldWide had a report last month that Moon Knight would begin filming this November in Atlanta. Moon Knight is about Marc Spector, a man who believes he was resurrected and given powers by the Egyptian god Knoshu.
According to the site, Marvel is searching for a "Jewish Zac Efron-type actor', as we exclusively reported" for the lead, although Daniel Radcliffe has been mentioned as a possibility too.
However, Radcliffe also joked that he would be playing Wolverine in a new Marvel show, so any reports about Radcliffe doing anything with Marvel should probably be taken with more than a few grains of salt. Nothing is mentioned about the status of She-Hulk or Ms. Marvel.  
Does Marvel need to put on the TV brakes?
Marvel fans on Reddit were excited about the news, if a bit surprised. One fan remarked, "It's about right. If they move production to Atlanta in November it will probably shoot until June and then 6-7 months for editing, VFX, etc. Could be ready in early 2022. For example, Loki moved to Atlanta in November 2019 and won't premiere until May 2021."
Some fans wondered if Marvel was moving too fast, with one musing, "I feel like they rushed to release Disney+, and now viewers realized there's not much new original content after 4 and half hours of the Mandalorian. I hope they aren't rushing the Marvel shows just to pump out content."
However, that doesn't seem to be the case. Viewers did not leave Disney+ in waves after The Mandalorian, as many people had expected. The existing Disney content kept them interested. But with Marvel churning out a steady stream of shows through 2022, and with season 2 of The Mandalorian returning late this year, Disney+ will have a steady stream of content for the next few years, so that the service can keep growing, just as Netflix has done in recent years.
Source: Read Full Article