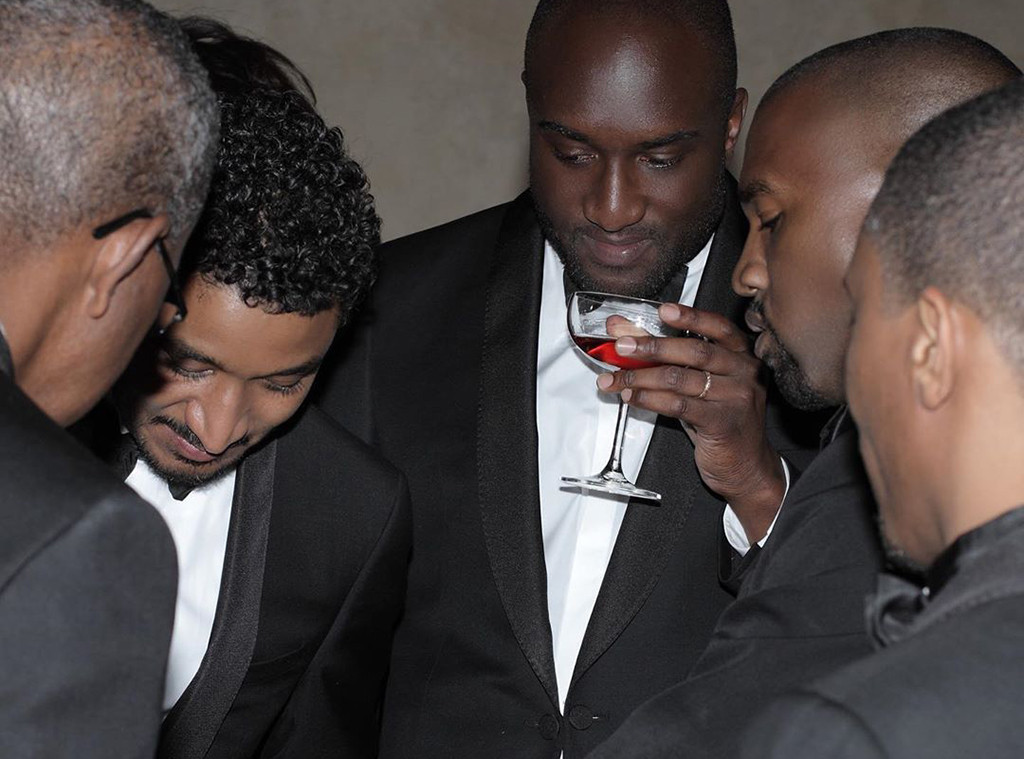 Nabil Elderkin
Virgil Abloh doesn't sit still long enough to warrant a desk.
"I literally have no desk in the world. I work on the street, phone in hand," the founder of luxury streetwear label Off-White explained to the New York Times in 2017. "I've occasionally been stuck at the corner of Prince and Mercer Streets in Manhattan not even realizing I've been standing there for 20 minutes responding to messages."
"I don't like being in offices," Abloh continued, "and the main reason is that it can interrupt my train of thought. Being in that environment, like, everyone can ask you a question. And I've found that I'm best when I'm just sort of roaming around and noninterrupted and thinking these long-winded thoughts. That's why my office is really my phone. As long as it's charged I'm good."
Fast-forward to 2020 and the man hasn't changed. But his office situation has.
In 2018, Abloh, the son of Ghanaian immigrants who championed his relentless interest in design, music, art, architecture and everything that goes into building and creating, was named artistic director of menswear for Louis Vuitton, becoming the first African-American to ever have that role at the 166-year-old French fashion house. He ended up as one of only two fashion designers on TIME's 100 Most Influential People list that year.
So now, though Abloh still may be reluctant to sit down for too long, he has a very nice office in Paris—the one that used to belong to Marc Jacobs, LV creative director from 1997 until 2013 and a huge inspiration to him, in fact.
That office now holds decks and Pioneer speakers, Abloh also being a DJ who curates the music for his shows as carefully as he considers fabrics and fit.
"My door is always open. There's no hierarchy," he explained to British GQ, whose writer noted the "fashionable young people in caps and trainers moving languidly around the rails, discussing fabric samples in hushed tones." Abloh said, "I don't shut the door and get people to ask permission to come in. You know, we're a team. I just happen to have done a series of things that allow me to be at the head of it, so I take responsibility."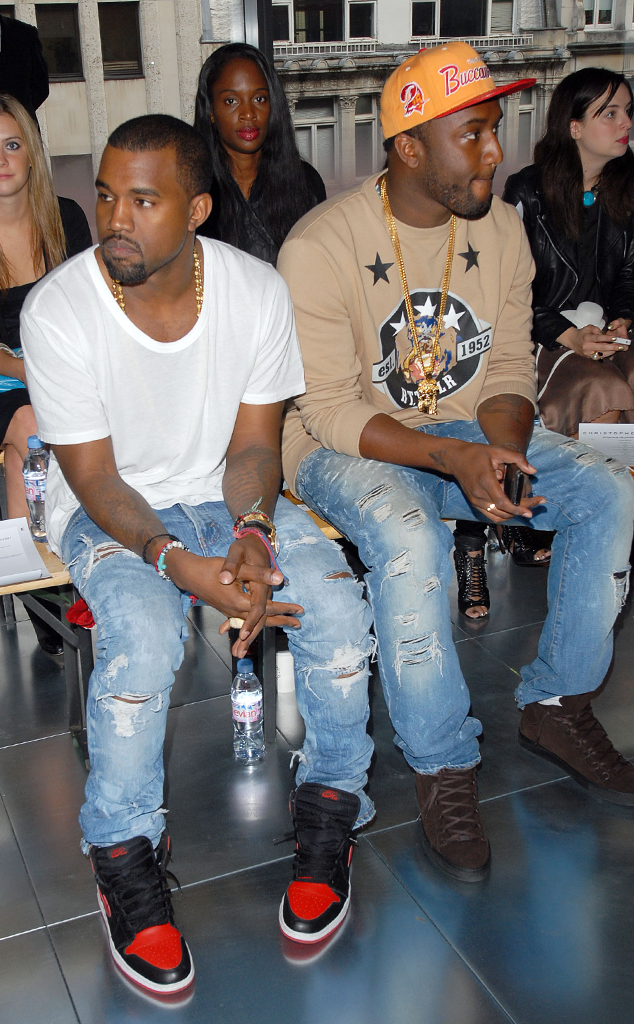 Stuart Wilson/Getty Images
That series of things started years ago for the 39-year-old artist and entrepreneur.
Born in Rockford, Ill., he and his sister were raised in a middle-class household and attended a Catholic high school where the kids wore uniforms. Dad Nee managed a paint company and his mother, Eunice, a seamstress, taught him how to sew. Abloh played varsity soccer and deejayed on weekends. He graduated with a degree in civil engineering from University of Wisconsin-Madison and then earned a master's in architecture from Illinois Institute of Technology, concentrating on the work of Mies van der Rohe and Rem Koolhaas. His first foray into the fashion business was designing T-shirts.
"I was just, like, an average sort of suburban kid, born in 1980, into watching Michael Jordan or listening to Guns N' Roses or NWA, skateboarding and that whole aesthetic," Abloh told the Times in 2017. "That was my fashion upbringing."
It was through the rapper's favored Chicago printing shop that Abloh first crossed paths with Kanye West. "We're all the children of Kanye's trailblazing," Abloh told W in 2017. "This generation wouldn't have the freedom to cross genres had it not been for his passion to find more than what was delivered to him."
They became fast friends and, in 2009, they both interned at Fendi—where, West would later claim, he and Abloh came up with the idea for leather joggers that the Italian fashion house summarily dismissed. "Whether I'm at a dinner with Anna Wintour, or I'm at a listening session with Pusha, or me and Virgil are in Rome giving designs to Fendi over and over and getting our designs knocked down," West said on BBC Radio One in 2013. "We brought the leather jogging pants six years ago to Fendi, and they said, 'No.' How many motherf–kers you done seen with a jogging pant?"
Nevertheless, it was during their time in Italy when Fendi chief executive—and future Louis Vuitton CEO—Michael Burke first glimpsed Abloh's talents.
"I was really impressed with how [Abloh and West] brought a whole new vibe to the studio and were disruptive in the best way," Burke told the New York Times in 2018. "Virgil could create a metaphor and a new vocabulary to describe something as old-school as Fendi. I have been following his career ever since."
After Fendi, West appointed Abloh creative director of DONDA, the agency he named after his late mother, Donda West, and Abloh was nominated for a Grammy for his work as artistic director on West and Jay-Z's Watch the Throne album
In 2012, Abloh opened and shuttered a streetwear line called Pyrex Vision, but he dusted himself immediately and launched Off-White the following year in Milan.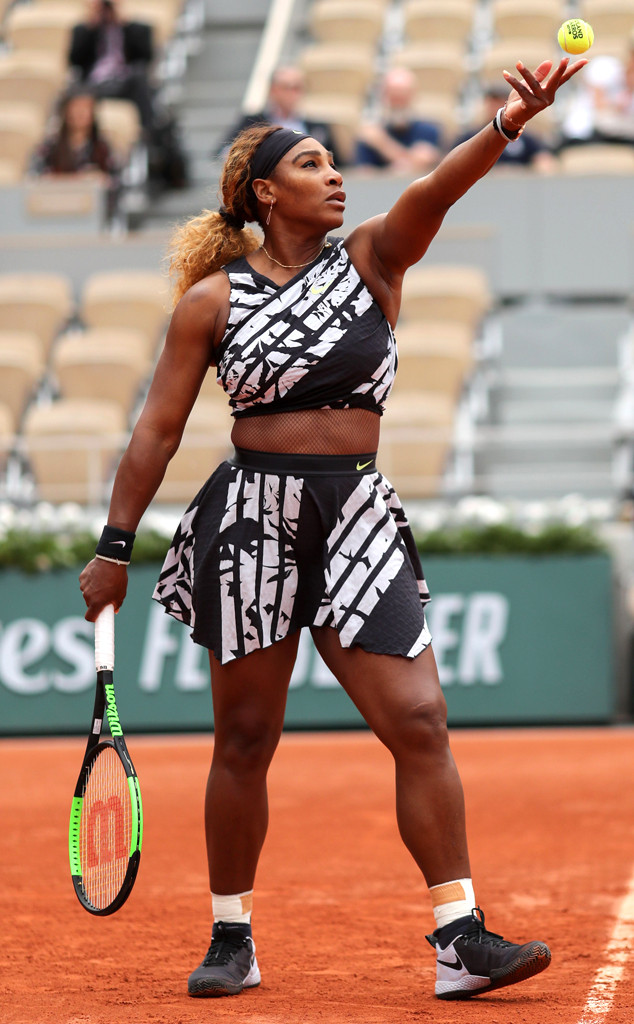 Dave Shopland/BPI/REX/Shutterstock
While taking the reins of a major fashion house was a longtime aspiration for Abloh, Off-White wasn't exactly a slouch in the industry. Growing in profile along with its creator, the brand swiftly acquired a huge celebrity following and is sold at the finest department stores around the globe, as well as at myriad boutiques.
Serena Williams' LOGO dress at the 2018 US Open and her cape-accented ensemble at the 2019 French Open were custom Abloh creations for Nike, two in a series of collaborations with the sports behemoth. Their Air Jordan "The Ten" collaboration won 2017's Shoe of the Year, and a new Nike x Off-White sneaker was just revealed earlier this month.
Since 2014, Off-White has only shown in Paris, and on Thursday the Women's Fall-Winter 2020-21 collection will debut at Paris Fashion Week. Abloh showed his latest menswear collections for Off-White and Louis Vuitton in the City of Light last month.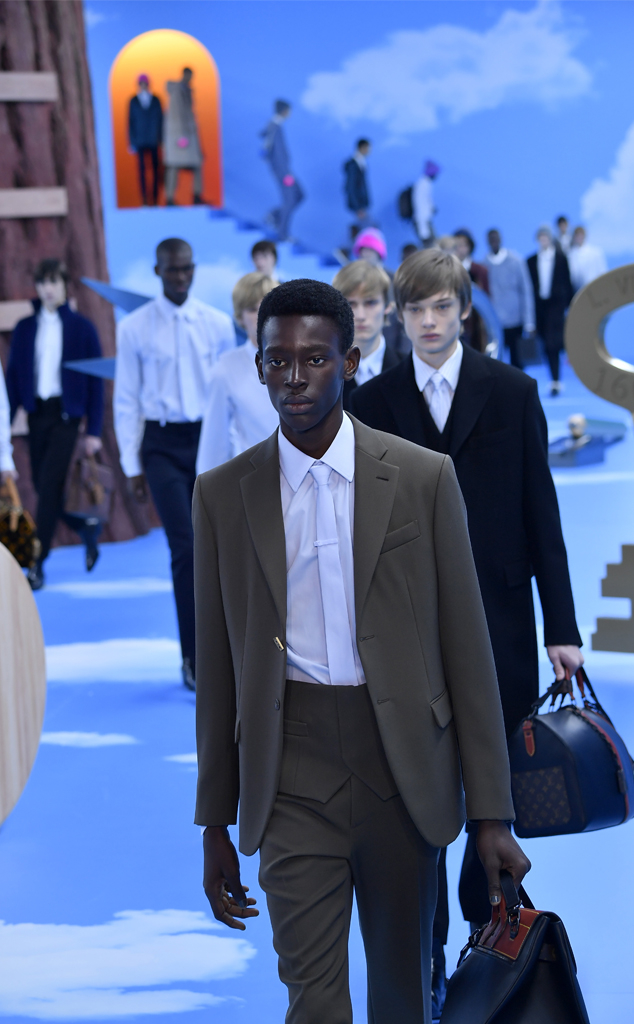 Kristy Sparow/Getty Images
In 2015, he was the only American finalist for the prestigious LVMH Prize for Young Fashion Designers, which recognizes under-40 talent from around the world. He won the Urban Luxe award at the 2017 British Fashion Awards, and was nominated for Menswear Designer of the Year in 2019, after which he joined the CFDA's board of directors.
But, Abloh acknowledged to the Times in 2018 when the news was announced, he felt "elated" to join Louis Vuitton. "This opportunity to think through what the next chapter of design and luxury will mean at a brand that represents the pinnacle of luxury was always a goal in my wildest dreams," he said. "And to show a younger generation that there is no one way anyone in this kind of position has to look is a fantastically modern spirit in which to start."
Abloh has been all about changing perceptions of what's possible in all of the artistic spaces he's chosen to occupy over the past decade.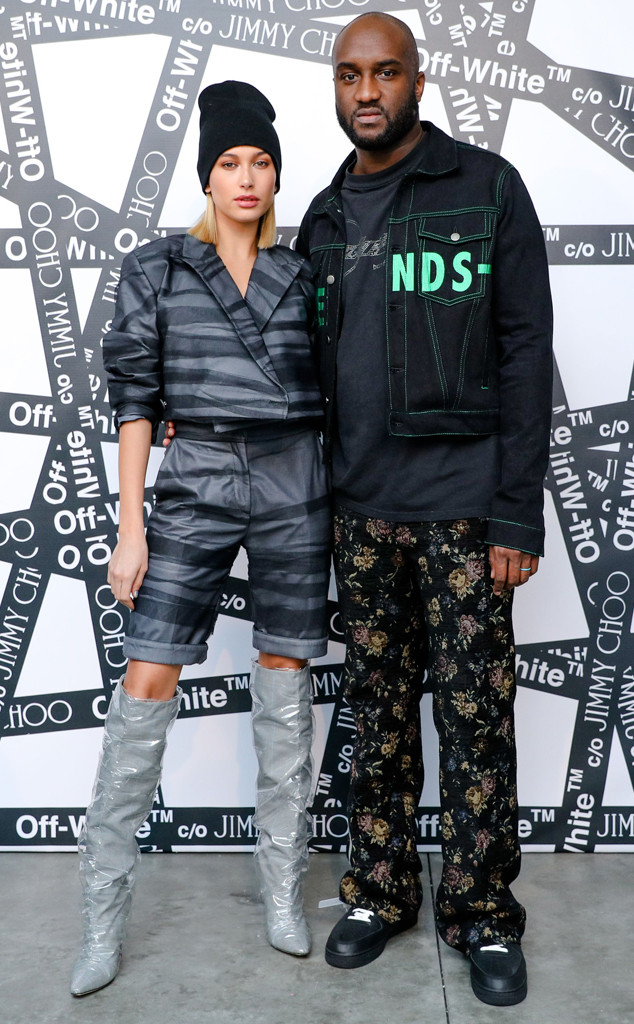 Vladimir Weinstein/BFA/REX/Shutterstock
He has delivered lectures at Harvard and Columbia's Graduate School of Architecture, Planning, and Preservation. He champions the work of other cultural disruptors he admires who are coming up in his wake, be it in design, music or architecture. Several months after landing the Louis Vuitton job, he performed at Lollapalooza (though taking the new gig meant cutting back on his deejaying). A few years ago he showed his first furniture line at Art Basel Miami, and in November he did a limited edition line for IKEA, the Markerad collection.
"I'm super-organized," Abloh quipped to Vanity Fair in 2018, remarking on how he managed it all. "And passion—that's it."
But he was not an overnight success, Abloh reminded The Guardian in 2019. "My career had been 15 years long and there's only been people paying attention for the last three. I've been doing this exact amount of work and type of work for a long time. It's the life of a designer and artist that not everything works, but when everyone's watching hopefully it's working."
It was working. The Museum of Contemporary Art Chicago hosted "Figures of Speech," an exhibit of his work, last summer. A neon sign reading, "You're obviously in the wrong place"—ripped from the snooty boutique employee's mouth in Pretty Woman and used as a prop at an Off-White runway show in 2015—held court amid the artifacts of his multi-faceted career.
Still, when he was first approached by the museum's curator about a possible exhibition, Abloh admitted that he thought they wanted him to deejay an event.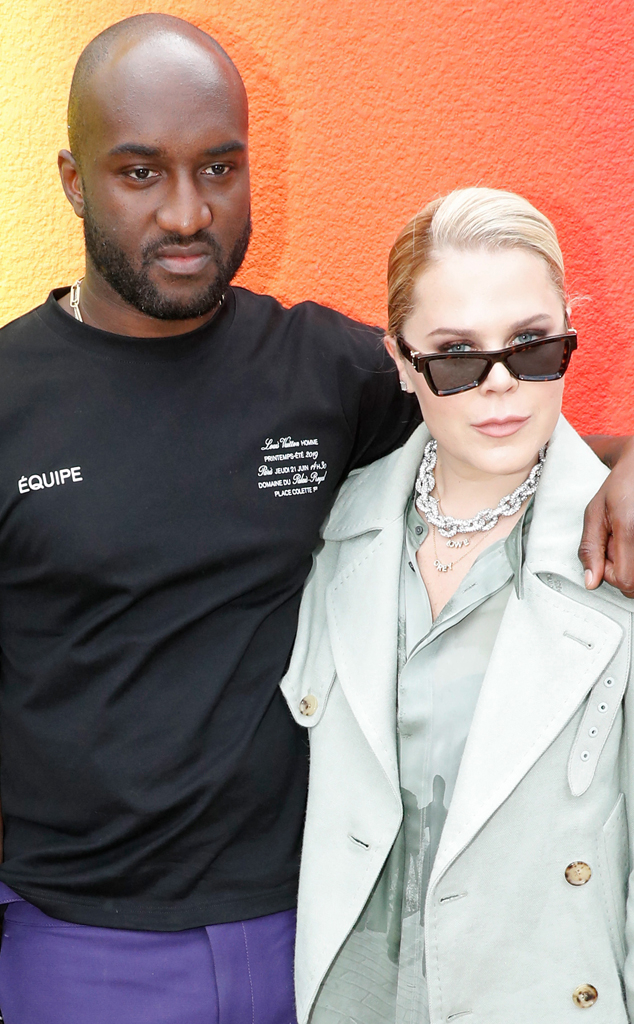 Bertrand Rindoff Petroff/Getty Image
Though he's a confirmed jet-setter, his beloved iPhone is full of A-listers and influencers, and he has 5 million Instagram followers, Abloh himself doesn't live the fast life—the roughly 350,000 air miles he logs yearly are for work. "I don't want to be a celebrity designer," he told W. "I want to keep my personal life out of it."
He married his high school sweetheart, Shannon Sundberg, in 2009 and they have two kids, daughter Lowe and son Grey. They all relocated to Paris from Chicago when Louis Vuitton came calling, and settled in Saint-Germain-Des-Prés.
Fittingly, Abloh proposed during one of the couple's routine drives to the airport to drop him off for yet another work trip. When Sundberg walked around the car to assume the driver's seat after Abloh got out, she found him kneeling next to the door instead.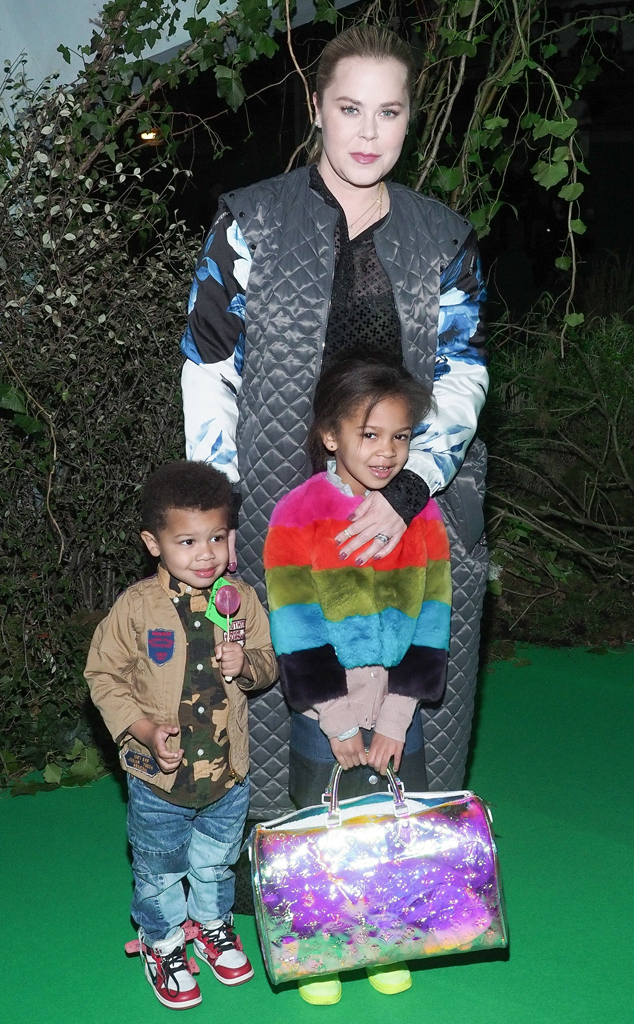 Laurent VU/SIPA/Shutterstock
Purple, the bride's favorite color, dominated the look of the ceremony, held at a luxury hotel in Chicago, though she mixed in a little pink to coordinate with her pale pink Amsale gown. The couple wrote their own vows—separately, Sundberg told Inside Weddings, but "they were very similar!"
Abloh, a soccer player in high school and a beefy presence to be reckoned with at 6'2″, also keeps his daily go-to look pretty simple—black pants and a black T-shirt, almost always. Back in Chicago, he drove a black Bentley.
"For the last eight to 10 years we've been having this conversation about what's new, and for me, that has to do with making luxury relatable across generations," Abloh told the New York Times about his vision for Louis Vuitton. "The first thing I am going to do is define new codes. My muse has always been what people actually wear, and I am really excited to make a luxury version of that."
Though not one for offices as a rule, in the summer of 2018 the contents of his Chicago office were moved and set up as an art installation in Montreal—and his fans flocked to see the array of Post-Its, a pair of Off-White prototype reading glasses, design books and an IKEA table cluttered with stuff, including some loose cash.
His "literal brain on display," Abloh called it.
Asked about the repeated criticism by some that he's less of a creator of objects or fashion than a re-packager of others' ideas, he told SSense, "Native to my work is the idea that you could literally do it, too. That's the whole trick. If you can't afford it, go to your local screen-printer and make your own version."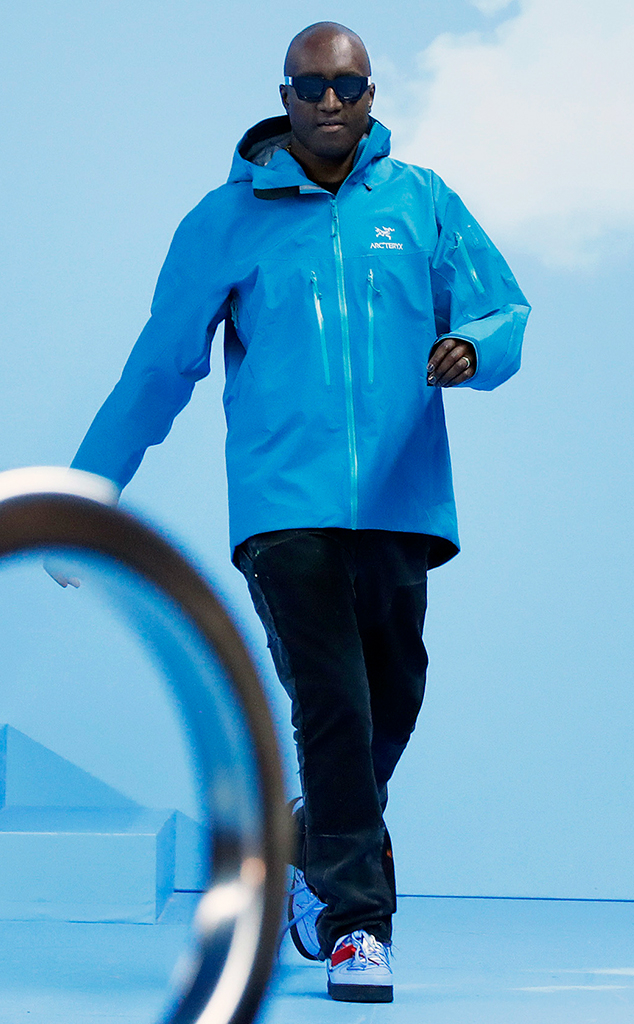 Estrop/Getty Images
As for work-life balance these days, he's…well, working on it.
He presided as usual over his Louis Vuitton show last month, but in September the Off-White Women's Spring/Summer 2020 show at Paris' Pompidou Centre had to go on without him.
"Ultimately, everything is fine," he said at the time, explaining his absence, "but the doctor told me, 'this pace that you've sort of pushed your body–to fly all these miles, do all these different projects–is not good for your health.'"
At least he could rest easier in October, when parent company Louis Vuitton Moët Hennessy reported a 16 percent increase in revenue, year on year, driven by sales at Louis Vuitton and Dior.
Still, it's not as if even a doctor's warning could slow him down for long. "Work is relaxing to me," he told GQ in 2018. "I'm happy making things. So relaxing is the opposite of making something, probably not the healthiest, but…" He paused. "So, I gotta jet."
Source: Read Full Article