Kourtney Kardashian is a hard-working mother of three, andshe dedicates as much time as she can to her kids. Kardashian recently createdsome drama among her sisters on Keepingup With the Kardashians when she made it clear that she'd rather focuson being a mom than doing the reality show.
One thing Kardashian also focuses on is her health (mental and physical), and she recently explained to fans how she was able to lose the baby weight after three kids.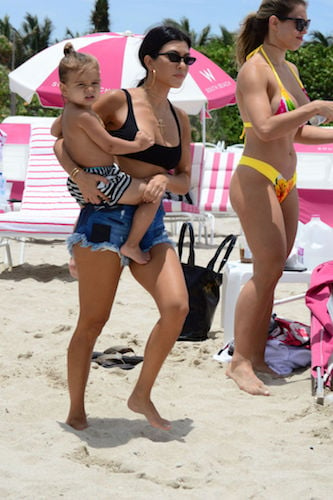 Kourtney Kardashian has three children with ex Scott Disick
When Kardashian and Disick started dating back in 2006, her family wasn't crazy about him. He had a lot of things to work on (specifically, his drinking problem), and the two had plenty of drama in their relationship. But over time, he became a member of the family. Kardashian and Disick welcomed their first child, Mason, back in 2009. They welcomed their second child, Penelope, in 2012 and had their third, Reign, in 2014. The couple officially called it quits in 2015, though they have managed to co-parent very well.
She's always focused on a healthy lifestyle
Kardashian is raising her kids to live very healthy lifestyles, and she's setting an example for them as well. She limits the amount of gluten and dairy they can eat and makes sure to always feed the kids healthy foods. Along with an extremely healthy diet, Kardashian also spends plenty of time in the gym. She recently celebrated her 40th birthday, but many would agree that she looks great for her age. Surprisingly, Kardashian hasn't had any work done to her face, unlike most of her sisters.
Kardashian has several tips for losing the baby weight
Kardashian recently posted an article to her lifestylewebsite, Poosh,explaining how she managed to lose the baby weight and still look amazing afterhaving three kids. She walked fans through the things that worked for her,including breastfeeding for an entire year (it forced her to eat clean andlimit alcohol). Kardashian also said that if her weight plateaued, she'd removeone thing from her diet, such as sweets, to see if it made a difference.
Kardashian explained that she had a difficult time getting her body back after her second child, and she noted that hiring a personal trainer helped her greatly. She continued workouts through her third pregnancy, which helped her after giving birth to Reign.
Her biggest tip for losing weight is to do it for yourself and no one else
Though Kardashian provided several tips that worked for her,she made sure to tell her fans that one tip to losing weight is more importantthan the rest. "The most important thing is to listen to your body and to dowhat you're doing for you, not for society's standards of getting your bodyback," she wrote. She noted that she didn't want to be in the best shape of herlife until about four months after welcoming Reign, though many women mightfeel that they need to start intense workouts right away.
Kardashian is now extremely fit, but most importantly, sheseems happy to be a healthy mother of three.
Source: Read Full Article