Last week it was the TikTok "Smeeze" dance. This week for the This Is Us fourth season wrap production party, the cast even brought in Randall (Sterling K. Brown) and Beth's (Susan Kelechi Watson) kids for the TikTok. Let's check out Jon Huertas' dance moves below and why fans believe he needs to go on Dancing With the Stars.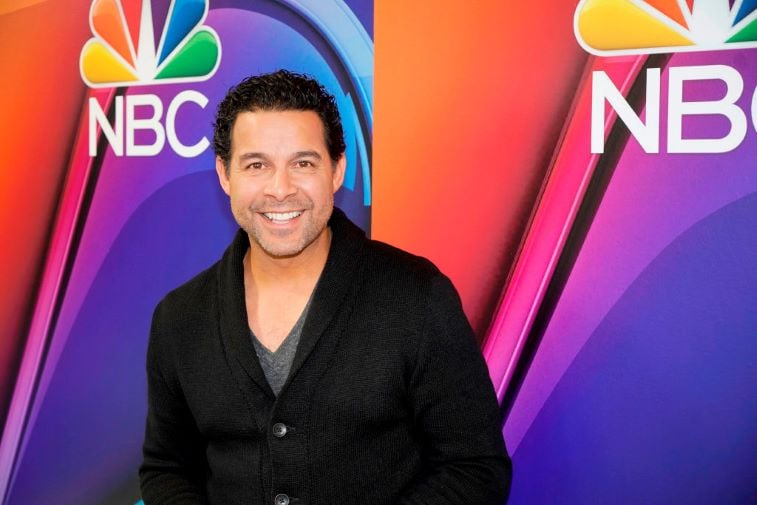 Who plays Miguel on 'This Is Us', and how old is he?
Fifty-year-old Jon Huertas plays Rebecca's (Mandy Moore) second husband, Miguel, on This Is Us. Huertas grew up in New York City with his grandparents and began starring in school plays at 10-years-old. He decided to pursue acting after a performance moved a nun — who gave him the role as punishment — at a strict Catholic school.
Besides playing Miguel, Huertas is also known for his role as Brad Alcerro in Sabrina, the Teenage Witch, Sergeant Antonio Poke Espera in HBO's Generation Kill, and Joe Negroni in the movie Why Do Fools Fall in Love. He also starred as homicide detective Javier Esposito in Castle.
What do 'This Is Us' fans have to say after Miguel's 2nd TikTok ever?
"Is Miguel looking for a gig on Dancing with the Stars?" one Reddit user asked. "His TikTok videos are like mini auditions."
On both videos, the comments piled up quickly about Huertas. 
"Ok, Miguel!!! GET IT!" added another Redditor. "I demand that you now do daily tik toks to put a smile on all of our faces!"
Fans on Twitter and Instagram had a lot of the same to say about Miguel. They were shocked at first that he was a great dancer, but now they want to see more.
"Why is Miguel always the flyest one?" one fan tweeted.
Viewers are ready to see Huertas take the stage on the next Dancing with the Stars. 
The cast TikToks aren't the first time Huertas showed off his moves on the set
Sterling K. Brown is often dancing backstage on the set of This Is Us with Susan Kelechi Watson; however, he ropes in others.
In a video posted by Brown on Nov. 14, 2019, Huertas throws down the moves all by himself. In a second video that day, Mandy Moore jumps in. The cast evidently has a ton of fun behind the scenes. We are wondering if Huertas will take the Dancing with the Stars gig under consideration.
Until then, viewers will have to settle for the behind the scenes footage from Brown and Moore to see Huertas' dance moves.
This Is Us returns with an all-new episode Tuesday, Mar. 10, 2020, at 9 pm ET on NBC.
Read more: 'This Is Us': Fans Have a New Theory Why We Won't See Kate in the Distant Future
Source: Read Full Article