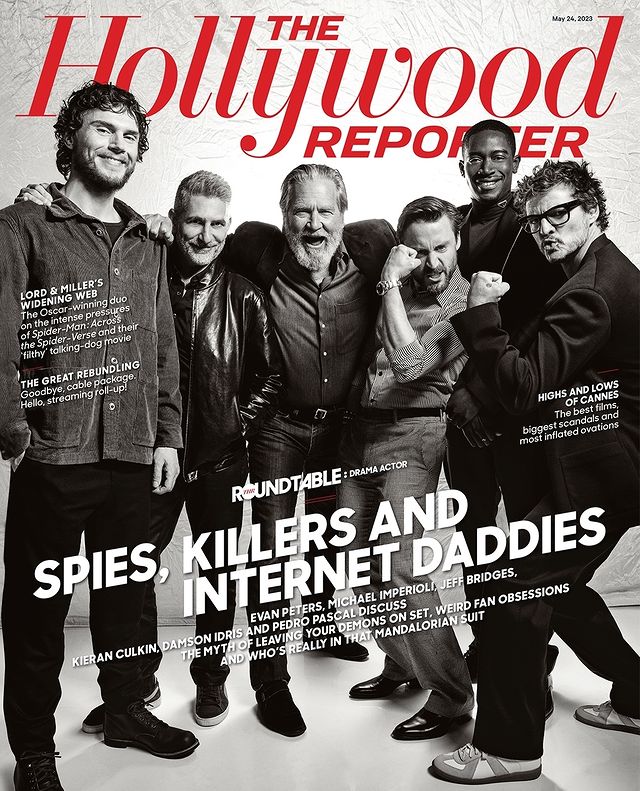 The Hollywood Reporter conducted their Emmy-season male actors' roundtable for this week's issue. These are the leading candidates for Emmy nominations in drama, according to THR: Pedro Pascal, Kieran Culkin, Jeff Bridges, Michael Imperioli, Evan Peters and Damson Idris. I agree that Pedro and Kieran are huge contenders, as is Jeff Bridges. Are people caught up on Snowfall? Will Evan Peters pick up nominations for that Jeffrey Dahmer series? And is Michael Imperioli the biggest name coming out of The White Lotus's Season 2? I don't know. But all of these guys are likable and they had a nice, friendly vibe during the roundtable. Here's the conversation:
My favorite part is that they seated Kieran and Pedro together and they are basically in love with each other by the end. Kieran is so funny and weird and Pedro was totally vibing with him. They were making each other laugh so much. By the end of the conversation, Pedro did a big reveal that he and Jeff Bridges worked together and Pedro gave Bridges his flowers. Bridges told some cool stories about his brother Beau and working on Tron and some other great acting-process stuff. Evan Peters comes across as self-involved, but I loved when he talked about working with Kate Winslet on Mare of Easttown and how professional she is with everyone. Imperioli even got his flowers because he was part of The Sopranos, which blew up the cable television model in such a huge way in the 1990s. Damson surprised me because he talked about how he's not looking to play characters who are too close to his real life, that he doesn't want to play a guy from London, basically.
— Vulture (@vulture) May 24, 2023
— tony (@joeIsmillers) May 24, 2023
— lauren (@djarinluck) May 24, 2023
https://www.instagram.com/p/CsodZvVSOKi/
Cover & IG courtesy of the Hollywood Reporter.
Source: Read Full Article