Tony Bennett is one of the most popular jazz singers of all time, with a career stretching over 60 years, a total of 18 Grammy awards, and according to Celebrity Net Worth, a fortune of $200 million. And as he told Today, Bennett was always passionate about show business. 
Born Anthony Benedetto, he embraced music at a young age, while growing up with his Italian immigrant family in Queens. After his father died when Bennett was 10, he supported his mother, who worked in a dress factory, by becoming a singing waiter. "I remember saying very clearly to myself and the musicians I was with then that if I never become famous or successful I'm going to do this for the rest of my life," he recalled. "That's how much I loved entertaining people." Bennett was also influenced by his mother's outlook when it came to artistic integrity.
Describing how his mom refused to "work on a bad dress," the singer shared that he had a similar premise with music. "I said 'I don't want a hit record, I want a hit catalog," he told the morning show, adding, "I don't want to do one song that isn't intelligent or quality music.'"
His road to creating that hit catalog wasn't always straightforward, however. Keep reading to discover the untold truth of Tony Bennett.
He became a pacifist after fighting in World War II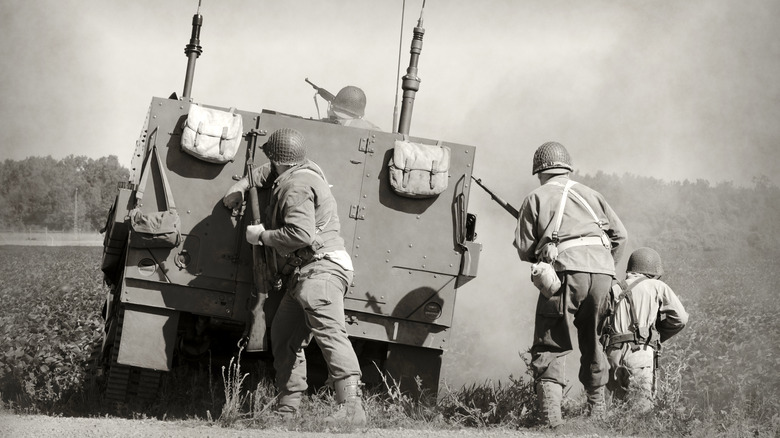 As soon as he turned 18, Tony Bennett's life as a singing waiter was transformed into a far more grim reality: he was drafted into the U.S. Army to fight in World War II in 1944.
According to PBS, the young singer only had six weeks of boot camp before joining the 63rd Infantry Division on the front lines in France and Germany. He also helped in the liberation of the Kaufering concentration camp after the Nazi army had been mostly defeated. "Although I understand the reasons why this war was fought, it was a terrifying, demoralizing experience for me. I saw things no human being should ever have to see," Bennett shared in his memoir "The Good Life."
The experience made him a lifelong pacifist, although he later faced backlash for his views when it came to the Iraq War, per The Guardian. "The main thing I got out of my military experience was the realization that I am completely opposed to war," the singer wrote in "The Good Life," explaining the reasons for his beliefs. "Every war is insane, no matter where it is or what it's about. Fighting is the lowest form of human behavior."
Bob Hope gave Tony Bennett his name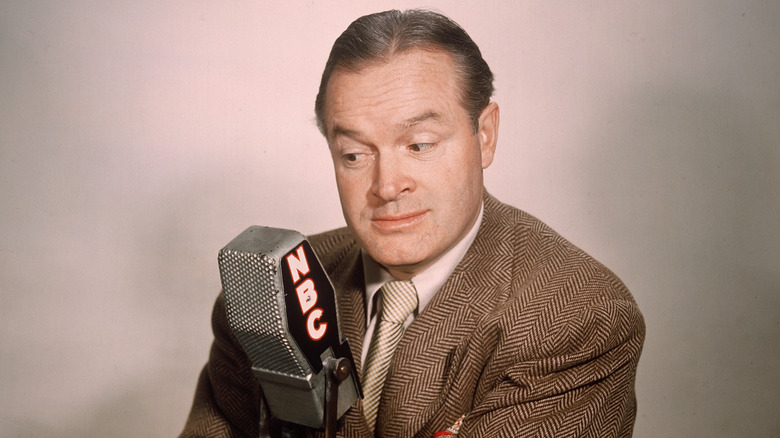 Tony Bennett might never have become Tony Bennett without the help of a screen legend who gave him a new stage name.
Speaking with Today, Bennett recalled that when was performing at the Greenwich Village Inn with the entertainer Pearl Bailey, he was spotted by Bob Hope. "He got a big kick out of me because I was the only white kid in the show," the singer said, adding that Hope asked him what his name was. "I had a name that I thought would be catchy, and I said, 'Joe Bari.' Bob said, 'That's a city in Italy! What's your real name?'"
When Bennett admitted that it was Anthony Dominick Benedetto, Hope declared that was "too long for the marquee" and decided that he would be called Tony Bennett instead. "He had no idea there'd be a singer one day called Engelbert Humperdinck," Bennett joked. Hope also brought Bennett on tour with him, allowing the Italian-American singer to perform "all over the country" and showing him how to win over an audience.
As Bennett told PBS, that moment brought him "a new Americanized name, the start of a wonderful career and a glorious adventure."
Was Tony Bennett tied to the mob?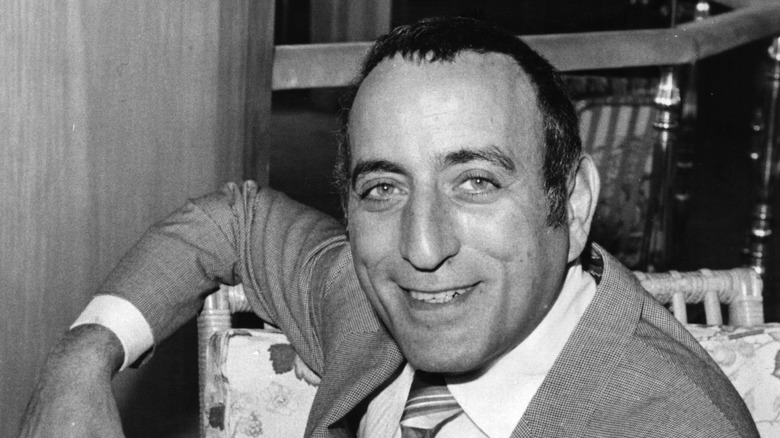 The world of show business had its shady side, however, and Tony Bennett has been haunted by the same rumors of mob connections that surrounded his fellow Italian American crooner, Frank Sinatra.
His biographer David Evanier claimed in "All The Things You Are: The Life of Tony Bennett" that Bennett's early career was given a boost by the mob figures that owned the nightclubs in New York. Evanier wrote that although the singer didn't want to get mixed up in that world, Bennett was "not Snow White, but no one is." Bennett reportedly severed those connections by the 1960s by paying $600,000. Although his family weren't happy with these rumors being published in Evanier's book, per the Daily News, other sources did reportedly confirm Bennett's links to the mob, like his former manager.
According to the Daily News, one of the singer's "reliable associates" also told Evanier that the notorious hitman Tony Spilotro had a violent confrontation with Bennett in the '70s, after finding out that the singer had been linked to his girlfriend. The Vegas gangster allegedly clobbered Bennett in the head with a heavy telephone book: a fairly tame interaction for someone like the murderous Spilotro, who reportedly inspired Joe Pesci's character in "Casino."
Tony Bennett marched with Martin Luther King Jr.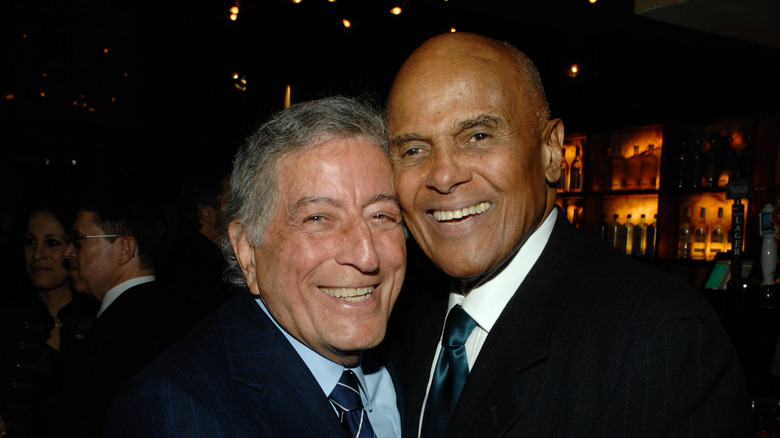 As well as becoming a lifelong pacifist, Bennett was also shocked by the racism that he allegedly encountered in the Army during World War II. Despite being promoted to the rank of corporal, he was demoted after inviting a Black friend to dinner with him in a segregated mess hall. "It was actually more acceptable to fraternize with the German troops than it was to be friendly with a fellow Black American soldier," the singer wrote in his memoir, "The Good Life."
These experiences led him to become involved in the civil rights movement. Bennett was even invited to march alongside Dr. Martin Luther King Jr. in Selma by his friend and fellow singer Harry Belafonte (above) in 1965, as the pair told CNN. At first, he was reluctant to join the protests. "But then [Belafonte] told me what went down, what was going down," Bennett revealed. "How some Blacks were burned, had gasoline thrown on them and they were burned. When I heard that I said, 'I'll go with you.' You know, I just realized that this is insanity."
Over 25,000 protesters filled the streets in the end, despite backlash from the white community. "We decided we were just going to march right through it, no matter what," Bennett recalled, sharing how he and Belafonte ended up performing on an impromptu funeral parlor stage made out of coffins. "Well, it was different," he quipped as Belafonte laughed.
Charlie Parker made Tony Bennett throw up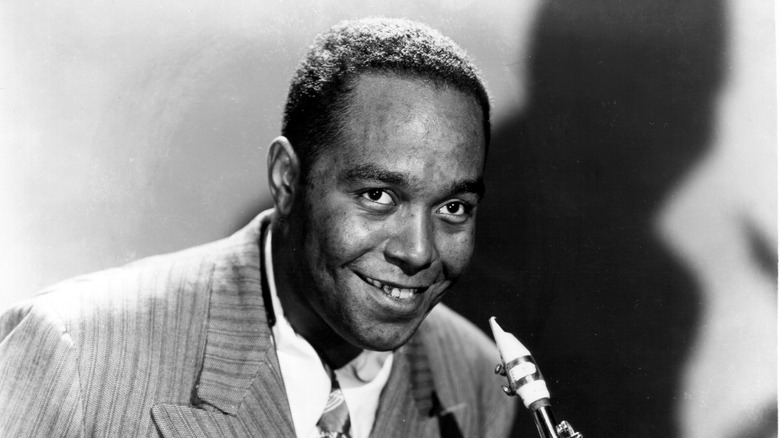 Tony Bennett's lifelong appreciation of jazz was so intense that he sometimes couldn't control his own bodily reactions, as he revealed to Today.
Living in New York at the pinnacle of bebop, the singer was told by his vocal teacher, Mimi Spear, to venture out into the city and observe musicians he loved. "Don't imitate singers, because if you do, you'll just be one of the chorus," she warned. So he developed his "own style" by emulating great instrumentalists, including Miles Davis and John Coltrane, who he watched at the clubs on 52nd Street. And one night, Bennett and a friend went to see Charlie Parker perform, without knowing who he was.
As the jazz aficionado told The Guardian, he was so shaken by Parker's talent that he had to leave a club and "regurgitate" after seeing the saxophonist perform. "It was so phenomenal, so emphatic," he insisted, describing the sheer power of the sound. "It was more music than I ever heard anyone play at one time. I just couldn't believe how great it was."
Tony Bennett nearly died after an overdose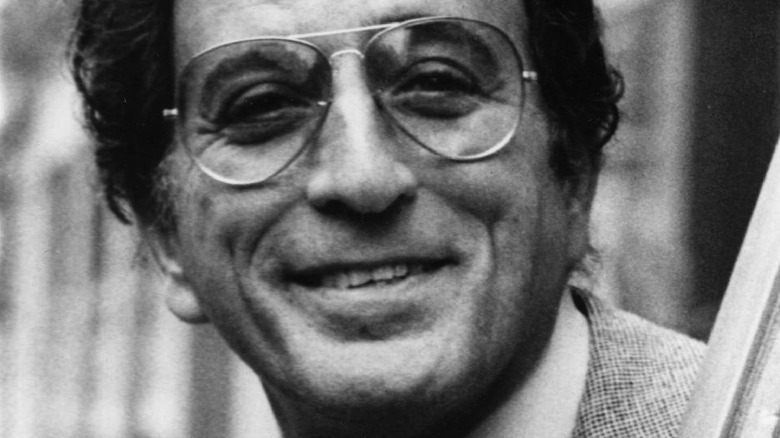 Tony Bennett went through his "darkest period" in the '70s when he lost his record contract and racked up $1.2 million in debt and "back taxes." The singer described those years as "a tortuous period of suffering" in his book, "All The Things You Are: The Life of Tony Bennett," per Express.
After his beloved mother died in 1977, Bennett's grief pushed him to turn "more and more recklessly to drugs for relief." His addiction reached a breaking point in 1979 after a near-fatal cocaine overdose. Sandy Grant, his second wife, found Bennett unconscious in their bathtub and saved his life by immediately taking him to the hospital. Bennett quit entirely soon after, thanks to the words of a friend.
He told Page Six in 2010 that his attitude towards drugs was changed forever by Jack Rollins, the former manager of comedian and heroin addict Lenny Bruce. "He said something that changed my life. He said: 'He sinned against his talent.' It affected me so much that I just got rid of everything," Bennett revealed.
If you or anyone you know is struggling with addiction issues, help is available. Visit the Substance Abuse and Mental Health Services Administration website or contact SAMHSA's National Helpline at 1-800-662-HELP (4357).
His son Danny turned his career around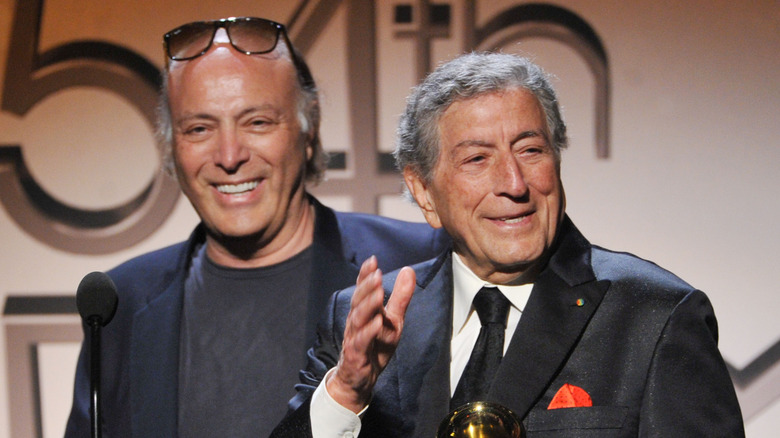 After going through those financially and personally disastrous years, Tony Bennett ended up turning to his family for support.
As his son, Danny Bennett, told The New York Times, his father reached out to him after his overdose. "That was the day of reckoning. That is when he called me up," Danny, who had unsuccessfully tried to launch his own music career at the time, explained. "I think that was a desperate move." Desperate or not, the decision to let his own son handle his finances worked out for Tony and his IRS debt was settled not long after.
"I said, 'Your head is above water,' and Tony said, 'Really?" Danny recounted. "I don't think he really believes it to this day." The singer also told The New York Times how paranoid about money he was before his son became his manager. "I realize how fortunate I am to have someone, in Danny, that is truly looking out for my best interests and not just in it for the money," the singer said.
Danny not only got Tony Bennett's financial life back on a golden path, he also revitalized his father's career, staging a comeback for Tony and introducing him to younger audiences through MTV and David Letterman. He revealed the key to his strategy to Entertainment Weekly in 1990: "You just put him in front of enough people, they're gonna get it. It doesn't matter what age."
Tony Bennett is also an avid painter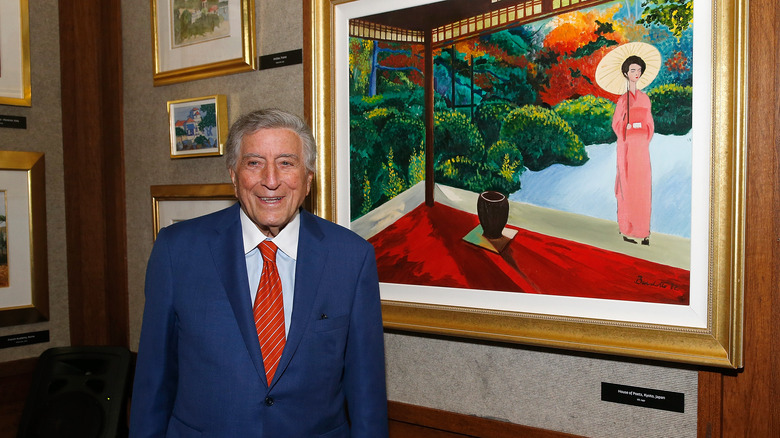 While jazz music is what Tony Bennett is known for, the singer has always been equally loyal to the art world.
Throughout his career, Bennett has painted under his family name, Benedetto. His landscapes and portraits have been displayed by the Smithsonian and commissioned by the United Nations, among other achievements. "I found, even as a kid, I'd draw or paint away and all of a sudden it was my own little creation," Bennett recalled in his book "Tony Bennett in the Studio: A Life of Art and Music," sharing how his interest began. "I was shocked by it, in a way. I'd say, 'Look at that. Look at that thing I made.'" He was talent-spotted and mentored by a schoolteacher, before going on to attend the High School of Industrial Arts.
As he revealed to PBS, Bennett was even tempted to give up singing in favor of becoming a full-time painter, before he got some fateful advice from a teacher. "I asked my music teacher, Mr. Sondberg, for advice and he encouraged me to stick with the music as well," Bennett explained, adding, "So all my life I have been singing and painting."
He founded the Frank Sinatra School of the Arts to thank Ol' Blue Eyes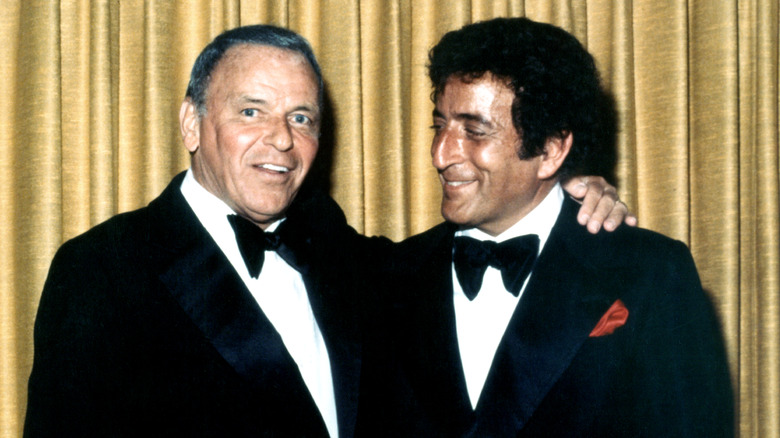 One of Tony Bennett's biggest influences and closest friends was Frank Sinatra, who changed the course of his career.
In a 1965 interview with Life magazine (via Billboard), Sinatra said that Bennett was "the best singer in the business," naming the younger man as one of his favorite musicians. "He excites me when I watch him. He moves me," the icon added. "He's the singer who gets across what the composer has in mind, and probably a little more." In return, Bennett founded the Frank Sinatra School of the Arts in 1999.
"He changed my life," the singer explained to The Guardian, referencing how Sinatra's Life magazine remarks led to Bennett  "[selling] out around the world." He added, "I thought [naming the school after him] was proper etiquette." He also praised Sinatra's loyalty in Time magazine, describing him as "full of love." As well as recounting an incident where the crooner brought hundreds of policemen to protect Judy Garland, Bennett shared a touching anecdote involving his mother.
"One night my mother and I were watching Sinatra on TV doing The Main Event. He knew my mother was dying, and he turned to the audience and said that Tony Bennett was his favorite guy in the whole world," he told Time. "My mother's face lit up like a Christmas tree—this image will stay with me as long as I live."
Tony Bennett first 'met' his wife while her mother was still pregnant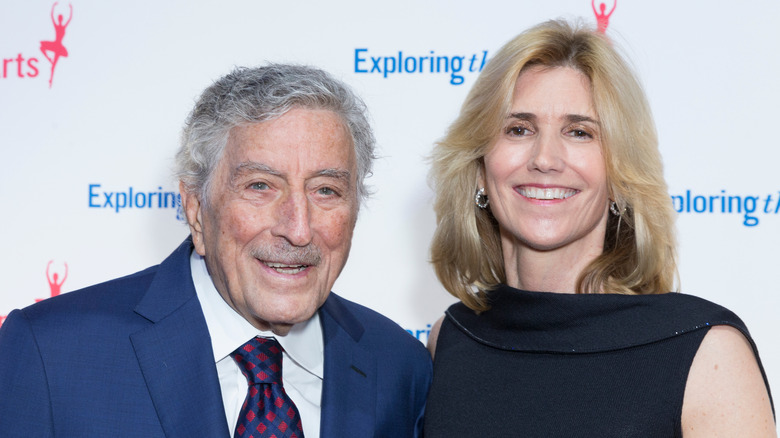 Tony Bennett's marriage to Susan Crow may still be going strong since 2007, but the pair didn't have the most conventional meet-cute.
In his autobiography "Just Getting Started," Tony shares how he first met Susan's parents in 1966, per ET. Dayl and Marion Crow were fans of Tony and lined up for a picture with the singer at a New York event. "As fate would have it, Marion was pregnant at the time with …Susan!" Tony wrote. "It's a photo we all laugh about [now], knowing the incredible turn of events that followed."
As AARP noted, Susan inherited her mother's love of Tony's music and became a devoted member of his fan club, even leading her local chapter as a teenager. In 1985, the 19-year old managed to meet her idol at one of his shows. "It tickled me that someone of her age was so devoted to my music," Tony revealed in his book. "I not only agreed to say hello to her backstage but asked her to be my date for the evening, and that's how it all really began." As he observed, their marriage had been "foreshadowed by a backstage photo taken in 1966!"
Tony later told The Guardian, "Susan is a woman with a wise, mature character," who had a lot in common with him. "I can't say that we didn't notice the 40-year age difference when we met, but we barely notice it now," he added.
He was Amy Winehouse's hero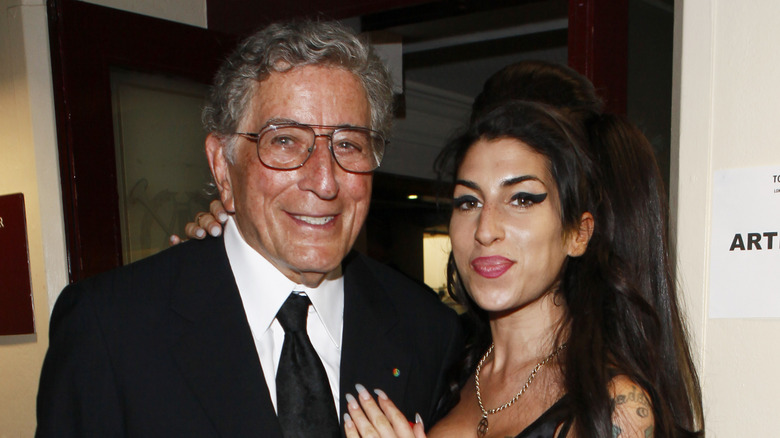 One of Tony Bennett's biggest fans, Amy Winehouse, was also an icon in her own right, although her career was cut tragically short. Bennett and Winehouse's duet of "Body and Soul" was the star's last recording before her untimely death at age 27.
"She was very nervous to perform, but I said, 'You know, it sounds like you're influenced by Dinah Washington.' And all of the sudden, her whole life changed," Bennett recalled to Entertainment Weekly. "She said, 'How did you know that Dinah Washington is my goddess?' She did some Dinah Washington licks, and from that moment on, she just relaxed."
"And it came out wonderful," he added. "She was like, 'Tony understands me, you know?'" Bennett also spoke about their shared love of authentic "jazz singing" and reflected on the tragedy of her death. "Amy had that gift," he declared, comparing her ability to Billie Holiday and Dinah Washington. "The fact that she died at 27 years old is just horrible to me."
As CBS reported, Bennett invited the late star's parents on stage with him when their duet won a Grammy for best pop performance by a duo or group the following year. "We shouldn't be here. Our darling daughter should be here," Winehouse's father said, adding that she had been "thrilled" to work with Bennett.
Lady Gaga says Tony Bennett saved her life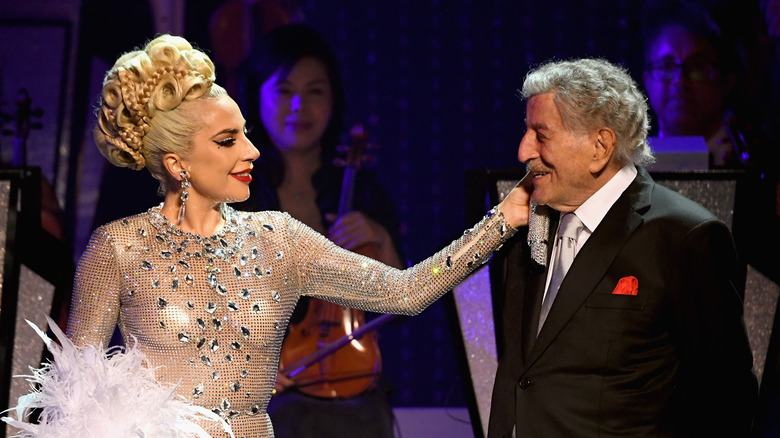 Another young star who considers Tony Bennett a hero is Lady Gaga. The pair first worked together for his "Duets" album in 2011, recording a version of "The Lady Is A Tramp" that was so successful they decided to collaborate on an entire album, 2014's "Cheek to Cheek."
In an interview with Parade, the veteran jazz singer and the eclectic pop star shared how they bonded over their Italian-American roots and their dedication to their families. Gaga even credited Bennett with saving her life during a particularly low period. "I was so sad. I couldn't sleep. I felt dead," she revealed, hinting that people in her life had taken advantage of her. "And then I spent a lot of time with Tony. He wanted nothing but my friendship and my voice."
Bennett also praised Gaga for her stage presence and her vocal abilities. "She's up there with Ella Fitzgerald, who was the greatest singer in the world," he declared, sharing how much he loved working with the pop star. "The fact that Tony sees me as a natural-born jazz singer is still something that I haven't gotten over," Gaga later told AARP, describing the singer as "an incredible mentor, and friend, and father figure."
Following "Cheek to Cheek," the pair teamed up again for another album, as AARP reported. But the recording process for their third collaboration has been considerably slower — and there's a heartbreaking reason why.
Tony Bennett uses singing to help with his Alzheimer's disease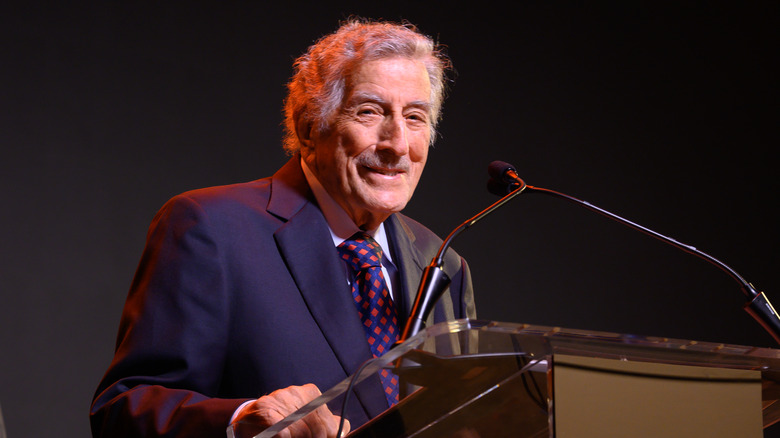 Fans across the world were heartbroken when Tony Bennett and his family revealed that he had been diagnosed with Alzheimer's disease in 2021.
After speaking with Bennett's wife, Susan, AARP reported that the singer was "not always sure where he is or what is happening around him," and that he had first started exhibiting symptoms in 2015 when he began to forget the names of his backing musicians. Bennett's doctor Gayatra Devi, however, noted that he was "doing so many things, at 94, that many people without dementia cannot do."
Bennett also hadn't shown any signs of frightening mood shifts, as of the report. "He really is the symbol of hope for someone with a cognitive disorder," Devi added. And his official Twitter posted an equally upbeat message for his fans after the article had been published: "Life is a gift — even with Alzheimer's. Thank you to Susan and my family for their support, and AARP The Magazine for telling my story."
Bennett's doctors recommended that he keep up his rigorous touring schedule, before COVID-19 hit. He still rehearses regularly, accompanied twice a week by his pianist. "Singing is everything to him. Everything," Susan insisted in her interview with AARP. "It has saved his life many times." She candidly added, "There's a lot about him that I miss. Because he's not the old Tony anymore. But when he sings, he's the old Tony."
Source: Read Full Article